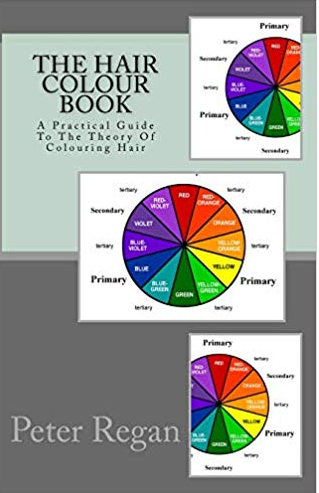 Here is a link to this book on Amazon.co.uk
https://www.amazon.co.uk/Hair-Colour-Book-Practical-Colouring/dp/1720845697/ref=sr_1_1?keywords=hairdressing+theory&qid=1554801195&s=books&sr=1-1
Now available in Spanish at
https://www.amazon.co.uk/LIBRO-COLORACI%C3%93N-DEL-CABELLO-Coloraci%C3%B3n/dp/B08WZDPW39/ref=sr_1_1?dchild=1&keywords=el+libro+de+la+coloracion+de+cabello&qid=16
A Practical Guide To The Theory Of Colouring Hair
The Hair Colour Book – a practical guide to the theory of colouring hair. I have kept the pure science content to a minimum, as it can be distracting. Instead, I have concentrated on the practical aspects of colouring hair, in plain and simple English. This book is a resource that can be used for reference as well as a clear explanation of the theory.
This book contains 17 chapters which contain information relating to their particular subject. Each has a checklist so that you can find the information easily. The next part is a quick reference guide, where you can see in a sentence, information which can be used to jog your memory. The final part is the Glossary where terms used in the book are listed in alphabetical order along with an explanation.
Below are the contents page from the book along with the complete Chapter 2, Levels and Tones.
CONTENTS
1. Consultation
2. Levels and Tones
3. The Colour Wheel
4. The Numbering System
5. Racial Differences in Hair
6. Controlling Warmth
7. Adding Tone
8. Grey Coverage
9. Blondes – Bleach or Tint
10. Brunettes
11. Reds
12. Porosity
13. Developers and Mixing
14. Oxidation
15. Notes and Histories
16. Quick Reference Guide
17. Glossary
Here is Chapter 2 – Levels and Tones.
Levels and Tones
The simple equation for a hair colour result is:
Contributing pigment + Artificial colour = Final result
To understand this statement, first examine the basic hair colour terms.
Base Colour
The dominant colour in any formulation that gives a shade its overall characteristic regardless of tone.
Level
The degree of lightness or darkness (natural or artificial).
Tone
The warmth or coolness of a colour – warm tones reflect light and make the hair appear lighter, cool tones absorb light and appear darker.
To formulate a hair colour successfully, we must determine the starting, natural base colour and tone, the desired level and tone (finished result). The colour wheel can be used to establish which colours will enhance or neutralise the tones to help us reach our desired or target result.
To fully grasp the workings of the colour wheel, examine the interaction of Natural Levels, Contributing Pigments and Exposed Contributing Pigments.
Natural Levels
In the UK we identify 10 natural levels of hair colour. Some brands start at level 1 others at level 2. For the purpose of this chapter we will use the level 1 start point. Level 1 is Black. Levels 2-5 are Brown (level 2 is darkest brown), 6-10 are Blonde (level 10 is lightest blonde). There are tints that can be used to change a natural colour to each of these levels depending on the developer used. There is also an extra level, Special (high lift) Blonde. High lift colours are designed to enable hair more than 3 levels darker to be lifted up to level 10. To avoid damaging the hair, we should not lift the hair more than 3-4 levels.
Contributing Pigment
Each natural level has its own contributing pigments sometimes called underlying/residual warmth. This underlying warmth is exposed during the lightening process, giving predictable levels of residual red, orange and yellow which will be left in the hair depending the amount of lift achieved.
Exposed Contributing Pigment
Is the colour that is left after the hair has been lifted to a particular level. If we start with a base level 5 (light brown) and aim to achieve level 7 (medium blonde) the residual colour left behind will be yellow orange. Level 8 will leave yellow, and so on. The colour can be enhanced or neutralised by choosing the correct tone depending on our desired result. Below is a table showing what the Exposed Contributing Pigments are at each level.
The Shade Chart
The swatches in your shade chart indicate the colours that are available within the range. They are grouped in families. For example, there will be Natural/Neutral shades, Golds, Browns, Reds and High Lift, each manufacturer refers to them slightly differently. The Natural/Neutral family are your base colours. They can be added to other colours to intensify and assist in coverage of white hair, or other colours can be added to them to increase, neutralise or enhance tone. Double bases are used exclusively for coverage of resistant white hair.
When using the shade chart don't forget that you can only achieve lift at the levels that your chosen hydrogen peroxide will allow (see "Developers and Mixing" page 69).
Levels and Tones Checklist:
Make sure you understand the equation for a hair colour result.
Contributing pigment + Artificial colour = Final result
Understand the relationship between natural level and desired/target level.
Know what colours are exposed after you lift the hair.
Use the colour wheel to assist in choosing the correct tones to either neutralise or enhance.
Understand your shade chart and use it to find the precise colours you need to create your formula.